Leads, sales, and customer retention are what every business needs in order to Increase Business. It may come as a surprise to business owners to learn that social media is an affordable way to get those things. Listed below are 5 ways to make social media sites work for you.
Use Video in Your Posts
There is a reason why YouTube is the second largest search engine in the world after Google, and it's because people love videos. When a video is fun and entertaining, it's possible to boost purchase intent by 97%, and brand association by a staggering 139%. Using videos to promote your business can boost sales and have customers coming back for more, especially when you add them to your social media posts. It has long been proven that customers feel that videos help them in the decision-making process when they are considering making a purchase, so why would you not use them? Let's not forget that a great video is more likely to be shared, increasing the number of leads for your business.
Make Use of Hashtags
You don't have to like them, but it certainly helps if you use them. Using hashtags with your posts, images, videos, and more will help you get your content recognized by the right people. The good thing about hashtags is that they reach your target audience, which is likely to be very large if said hashtag is one that is trending or popular. Some folks go about creating their own hashtags, which is not necessarily the best way to go. Using popular tags get you seen by a wider audience, and shows that you already have a common interest.
Get to Know Your Platforms
Not all social media platforms work the same way, which is why you need to be aware of what should and shouldn't be shared on each. Facebook, Instagram, and Twitter are great for sharing and absorbing information, whereas LinkedIn requires a more businesslike, professional approach. Posting content on a site where it doesn't really fit will not help your cause.
Promote but Don't Overshare
Succeeding in the social media arena means building relationships and nurturing them, which requires a level of respect for everyone you interact with. It can be easy to cross the line between promotion and oversharing, the latter of which can be a turn-off. Think about it, do you enjoy listening to people constantly brag when you meet them face to face? Oversharing is essentially the online version of that. The god news is that it's not that difficult to create a perfect balance, it's just all about finding the right thing to say, which means posting items that will be of benefit to the people seeing them. Take time to share your own personal stories about how you built your business, as this keeps things real and friendly.
Share Content from Outside Sources
It can be tough to constantly come up with your own content, but you don't always have to. If you come across a great post that is relevant to your niche, and which you believe your followers will like, take the time to share it with them. Sharing posts created by respected outside sources shows that you are interested in helping your followers, even if that means using someone else's words to do so.
Look out for content from industry leaders, especially if it pertains how they made it to the top of the heap. This type of content is usually full of informative tips and tricks that can help both you and your social media followers on the path to greatness.
The simple fact of the matter is that social media and network marketing both require the cultivation of relationships. Combine the two, and do it right, and you could be onto a winning combination that will really Increase Business.
THE TOP EARNER FRAMEWORK?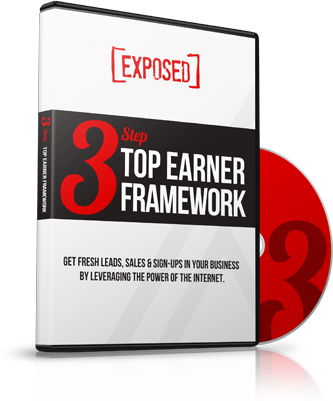 FINALLY Unlock the 3-Step Framework and Learn How to Get Fresh Leads, Sales & Sign-Ups in YOUR Business Leveraging the Power of the Internet.