Modern web use is evolving, and as businesses reflect on their ideal marketing plans, many believe Email Advertising to be an outdated strategy.
They're mistaken.
Email Advertising isn't what it used to be: with high-speed Internet connections and cutting edge media devices now available at the palm of our
hands, traditional black-and-white emails are a thing of the past. Growing with the times, the email marketing approaches of today,
such as video email or e-newsletters, are some of the most powerful and affordable advertising strategies we have available.
It's Simple and Enjoyable
Like almost everything else, email has been simplified to the fullest extent. Now able to sift through mail with tabs, folders, and
internal filters, emails users benefit from a seamless and more productive experience. In fact, 72% of U.S. adults prefer that
companies communicate with them via email versus any other advertising mode.
Smartphones enable users to easily access inboxes through one-click apps and search and retrieve information within just a few
seconds. Since 51% of emails are opened when people are on the go, it means the process needs to be simple and convenient. Rather
than being displaced, email has improved right along with smartphones, becoming easier to use, incorporating more integrated features,
and increasing productivity.
Easy to Personalize
Technology allows businesses to tap into a potential prospect's interests, better customize email messages, tailor their communications
to target audiences, and add a personal touch.
Try adding a unique touch by thanking clients on their one-year anniversary of joining your mailing list or sending them a custom birthday
message on their special day. By humanizing your brand, you're reminding recipients that they're not just a name on a list. This could
also make the difference between losing a lead and gaining a client.
It Compliments and Trumps Social Media
When it comes to Email Advertising, 60% of Internet marketers believe that email outperforms social media. Email drives more traffic, creates more
direct conversions and increases the click through rates by 50-100 times that of Facebook or Twitter. Check out these real statistics
on how email marketing trumps social media in click through rates:
Email Marketing: 3.57%
Facebook: 0.07%
Twitter: 0.03%
As you can see, email is still your best bet for effectively reaching a wide audience. This doesn't mean social media and email can't
work in tandem with one another. Not only can you use email to promote your social media accounts, but your Facebook and blog page can
also be used to grow your email list. By integrating a simple sign-up form on your social pages for instance, you'll provide your fans
with a convenient way to stay in the loop. Just remember: Email isn't dead!
It's Cost Efficient
You're much more likely to see a better return on investment (ROI) with an email marketing campaign than you are with other, more costly
strategies. For example, even if your latest email advertising campaign is a flop or if half of your target audience doesn't open your
message, you're still far less likely to fall into a financial hole than you would be if you'd chosen print or radio as your advertising medium.
Sending an email to 2,000 recipients over the web is far less costly than sending print to those same recipients, or spending the extra
bucks on a 30 second radio ad. In the end, spending less will earn you more.
Video Brings Email Engagement to the Next Level
Consider this: according to Brainshark, video email boosts open rates by 20% and increases click through rates by 2-3 times when compared
to traditional black-and-white emails. Using video as your communication medium increases the likelihood that your email recipient will
open and engage with the content you've produced.
By simply adding the word "video" in your subject line, you can improve click-through rates by 65%, and reduce unsubscribes by 26%. If you
were to change only one thing about your marketing that could increase your business interactions, the smartest choice would be to start
implementing video email.
You've Got Mail
Email marketing combines the comfort of the old with the excitement of the new, making it a business' most powerful—and convenient—asset.
There's always room in a marketer's tool belt for an email campaign that will deliver a valuable message and drive results.
FREE TRAINING + PDF DOWNLOAD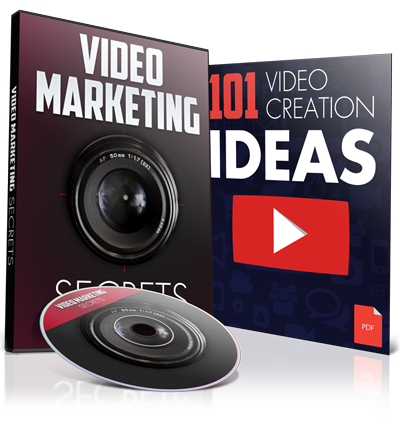 ATTENTION VIDEO MARKETERS: Get More Views, Subscribers, and Leads with YOUR Videos (and rank on Google Page 1)